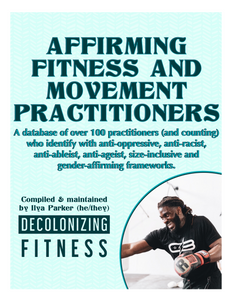 Database of Affirming Fitness & Movement Practitioners
**NOTE** I try my best to make sure I only add practitioners who are rooted in a anti-oppression, anti-racist, anti-ableist, anti-ageist, size inclusive and gender affirming framework. If you come across a person or a space listed in the database that is harmful please notify me immediately so that I can remove their listing.

Lots of folks have reached out to me and asked me where they can find trans/queer affirming personal trainers and movement specialists in their area.
So I decided to compile a contact list.
I'm excited to share with you the first Database created specifically to highlight some awesome Fitness Trainers, Strength Coaches, Yoga Practitioners, Massage Therapists, Pilates Teachers and more!
This List has more than 130 folks added so far!  Download it for FREE today and please share it as a resource! 
This database is maintained by one person and takes a lot of work to update consistently. You can make a donation to help sustain this work here:
Venmo: @Ilya-Parker
Cash App: $IlyaPaker
PayPal: paypal.me/ForsecaFitness
*If you find an error or would like to be added to the list please email me here: info@decolonizingfitness.com