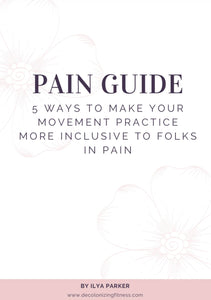 Pain Guide: 5 Ways to Make Your Movement Practice More Inclusive to Folks in Pain
*This is a Digital Guide ready for immediate download with purchase.*
PLEASE DO NOT REPRODUCE, REDISTRIBUTE OR RESALE WITHOUT THE EXPRESSED WRITTEN CONSENT OF ILYA PARKER
As someone who has been living with chronic pain for nearly 10 years now. I wanted to share some important things I've learned about pain and how it shapes my unique movement practice. I feel by re-conceptualizing how we view and work with folks in pain we can begin to reshape aspects of toxic fitness culture. The typical mainstream fitness notions are either: forcefully pushing people through acute stages of pain. ("No pain, No gain"), assuming that we know better than our clients regarding their bodies, reducing their pain to merely an anatomical experience or completely negating those who are working through persistent (chronic) pain. 
It's also no coincidence that often those who suffer from pain (and aren't believed) are those who exist in marginalized bodies i.e. fat, disabled, people of color. We have opportunities to provide more compassionate support to folks within these populations.
There is not much comprehensive information included in movement based curricula regarding pain unless you are specializing in this area so it's up to us as practitioners to demand more from these institutions who provide our credentials. I know we can do better. There is so much more for me to learn but I hope you find this guide helpful in the meantime!