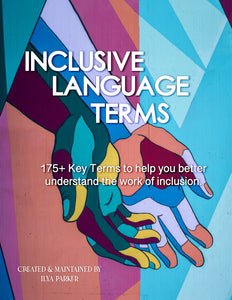 Inclusive Language Terms E-book
Inclusive Language Terms: 175 Terms to Help You Better Understand the Work of Inclusion.
This is a list of Inclusive Language terms that I have been growing over the years. It has taken quite some time to complete this list. It also takes work in maintaining it. Please be mindful that if you are planning on teaching or sharing from this list I ask that you reach out to me first so that we can talk through ways you can equitably support me during the process.
Feel free to message me to share some terms you think should be added to the list.
Although this is a lengthy list of terms it is by no means exhaustive. I will be adding to it periodically. The goal of this list is for folks to have a central place to go for a list of inclusive terms that reflect marginalized populations through the lens of fitness and wellness primarily. I also want to honor that many people in queer and trans communities don't align with much of the LGBTQIA+ related terms included on this list - in particular Black, Indigenous and People of Color (B-I-POC) folks who have forcibly been removed from their ancestral languages and cultural practices.